The Best Ways to Find Local South Indian Photographer Near Me who will Match My Style and Personality and has Creative Insights into South Indian Wedding Photography.
Magical Moments of My Big Day by South Indian Photographer Near Me | CandleLight Studio

Timeless Wedding Day Memories by South Indian Photographers Near Me | CandleLight Studio

Distinctive Wedding Pictures by South Indian Wedding Photographer Near Me | CandleLight Studio

The Best Team of Talented South Indian Wedding Photographers Near Me | CandleLight Studio

Top Leading Photographer for South Indian Wedding Photography Near Me | CandleLight Studio

Capturing Precious Moments at South Indian Wedding Videography Near Me | CandleLight Studio

South Indian Photographers for Local and Destination Weddings
Budget-Friendly South Indian Wedding Photography Packages
The Right South Indian Wedding Photography to Immortalize your Unique Moments.
Our South Indian wedding packages are within industry standard yet attractive and flexible to meet your bespoke needs.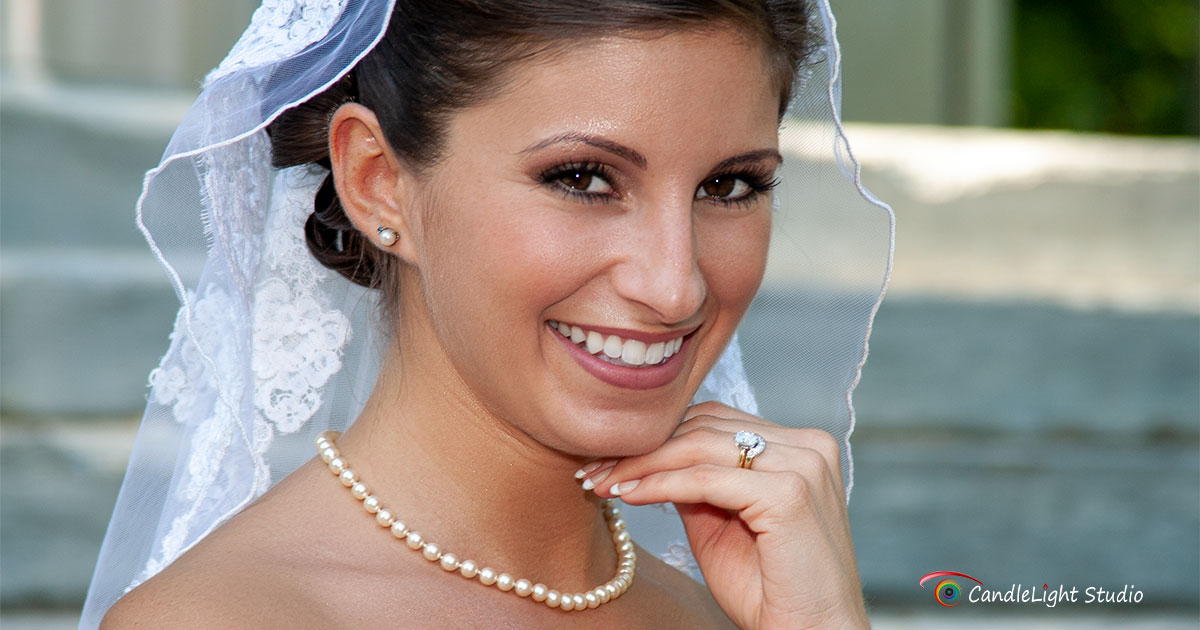 Affordable Wedding Photography Packages
Our team of the best Indian wedding photographers and videographers in NYC, NJ, and TX brings years of expertise to offer you unbeatable prices.
Tailored Wedding Photo Albums
Are you worried about cookie-cutter albums? Fear not! We create unique wedding photo albums tailored specifically to your love story.
Cinematic Wedding Video Highlight Reels
Don't settle for ordinary videos. Experience an unforgettable journey with our cinematic wedding video highlight reels.
Expertly Edited Full-Length Footage
Our expert editors craft full-length footage that captures every moment of your memorable event with precision and care.
Dynamic Titles, Special Effects, and Harmonious Music
Say goodbye to dull videos. Our edited videos feature dynamic titles, special effects, and music harmoniously paired with your event.
Live Stream Your Special Moments
In an era of social distancing, we let you share your joy with loved ones through live streaming of your special moments.
Elevate Your Wedding Experience with Drone Flying Cameras
Are you worried about missing out on unique angles? Our drone-flying cameras elevate your wedding experience to new heights.
Unleash the Full Potential of Your Memories
Don't let your memories gather dust. Unleash their full potential with our expert services.
Complimentary Online Gallery: An Artistic Showcase
We don't just capture moments; we curate an artistic online gallery to showcase the beauty of your wedding.
Make Your Wedding Unforgettable with CandleLight Studio
Are you worried about your wedding fading into the background? Make it unforgettable with CandleLight Studio.
Book Your Unforgettable Wedding Experience Now!
Don't miss out on the chance to create unforgettable memories. Book your experience with us today.
Your Trusted Partner in Capturing the Magic of Your Love Story
Let Indian Photographers be your trusted partner in ensuring that every magical moment of your love story is captured.
Contact Us Today to Secure Your Date
Don't delay securing your date. Contact us today to reserve your spot and ensure the most enchanting wedding photography experience.
4 Hours of Digital Photography
All High-Resolution Photos without watermarks, Delivered Online
FREE UPLOAD of selected photos on the Internet
4 hours of High Definition Videography
UnEdited High Definition Video Footage Delivered Online
FREE UPLOAD of selected video clips on the Internet
4 Hours of Digital Photography and High Definition Videography
All High-Resolution Photos without watermarks, Delivered Online
UnEdited High Definition Video Footage Delivered Online
FREE UPLOAD of selected photos on the Internet
4 Hours of Digital Photography and 4K Videography
1 Flush Mount Photo Album – size 12″x36″ (25 Pages/50 Sides) with Plexiglas Acrylic Cover
5~10 Minutes Video Highlights Reel
FULL Length Edited Video (Dynamic Titles, Special Effects, and Matching Songs), Delivered on USB Drive and Online
All High-Resolution Photos without watermarks, Delivered on USB Drive and Online
USB Drives are Playable on Smart TVs, Computers, Laptops, Tablets, etc., with USB input
Free Online Photo Gallery
FREE UPLOAD of selected photos and Video Highlights on the Internet
South Indian Wedding Videography by CandleLight Studio – Your South Indian wedding is going to be one of the most memorable days of your life. It's that unforgettable day where you commit to one another in front of friends and family. You'll want to relive those moments forever – but your South Indian wedding day can feel like a blur. With so much going on and all the family emotions involved, it's easy to forget some of the most treasured parts of your wedding ceremony and reception. That's why you may want to hire a South Indian videographer to capture it all.
South Indian Wedding Photography by CandleLight Studio – You will hire many talented vendors for your South Indian wedding, and each one provides an undeniably valuable service. However, one of your most essential vendors is your wedding photographer. This person will capture your big day in all its glory and give you memories that you'll treasure forever. Make sure you take the time to do your wedding photography homework and find a great South Indian photographer who matches your style and personality.
South Indian Videographers Near Me are a passionate visual storyteller who loves preserving precious moments in a creative and artistic way.
Innovative South Indian Videographer specializing in Local and Destination wedding cinematography.
South Indian Wedding Highlights Video Reel by CandleLight Video Studio.
South Indian Wedding Film | South Indian Wedding Ceremony Videos by CandleLight Studio.
Best South Indian Wedding Highlights Trailer by CandleLight Videography Studio.
CandleLight Studio: We will make your South Indian wedding memories last forever!!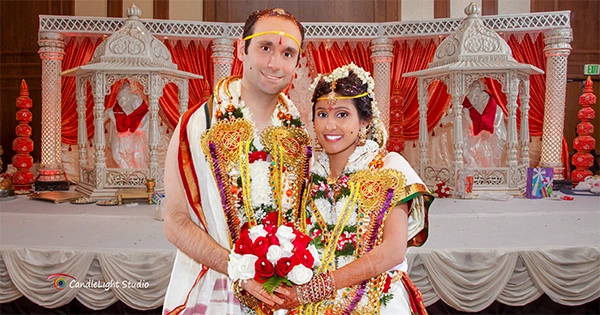 Why hire a South Indian wedding photographer near me? CandleLight Studio offers the best team of photographers and videographers for capturing the unique traditions of your South Indian wedding photography at an affordable price.
Happy memories of your wedding day for generations to cherish!
Why should I choose South Indian wedding photography near me for my ceremony photos and videos? South Indian weddings are an incredible celebration of the rich heritage of our country. They are a fascinating blend of traditions, rituals, food, music, and culture. Photographing and filming every custom and ceremony is exhilarating and a fantastic experience indeed! Having your special day captured on film means that you can relive those precious moments and share them with your children, grandchildren, friends, and family.
Candlelight Studio is a team of professional wedding photographers and videographers. We believe in producing a film that captures the key moments of South Indian Wedding Photography naturally and memorably. We consider it an honor to be involved in your big day and know just how important this South Indian Wedding Photography is to you and your family.
At Candlelight Studio, we believe that we have an eye for capturing your valuable moments in the most unique and beautiful ways. We deliver visually stunning wedding photos and videos and have a variety of packages to suit your budget. We pride ourselves on meeting your needs so that you can enjoy your wedding memory for years to come.
The Best South Indian Wedding Video Highlights in NY, NJ, and TX
It is a marvelous experience to film and take pictures at South Indian weddings. There are lots of moments and details to capture in the camera so that you can cherish them forever.
Video Highlights and South Indian Wedding Photography Near Me
Best South Indian Wedding Videography in Edison NJ
Why choose Candlelight Studio for your South Indian Wedding Photography and Videography?
A wedding is once a lifetime event for a couple. Choosing the best-suited photographer and videographer can be tasking! To make it easy, Candlelight Studio brings you a well-rounded wedding cinematography solution for all your South Indian wedding needs. We would love to cover the story of your wedding day. You will relish this unforgettable memory and relive it again and again through photographs and videos delivered to you by Candlelight Studio!
Poses during rituals
We try to capture as many natural poses as possible during rituals. Whether it is during the tying of the mangalsutra or exchange of garlands, we communicate clearly to the couple that they should be free of inhibitions and not pose artificially. They must look natural and carefree. Thus, their genuine smiles and happiness we capture perfectly.
South Indian Wedding Photography (Telugu, Tamil, Malayalam, Kerala, etc.)
South Indian weddings are colorful, thriving with love and life. South India consists of many regions, including Tamil, Telugu, Kerala, Malayalam, Kannada, etc. Every wedding has unique customs and traditions, a different color and different rituals. But they all have one thing in common, and that is unconditional happiness. This kind of diversity is what makes South Indian weddings so unique and varied.
The Pallikal Thellichal and Mangala Snaanam are Tamil weddings rituals. The Kashi Yatra ritual of Telugu weddings and Kannada weddings, and the Muhurtham ritual of Malayalam weddings. The uniqueness and specialty of each wedding can be captured perfectly by professional photographers and Videographers. However, it's even better if the job is given to Indian photographers because they are most closely associated with the cultures.
There will never be any other day as special as your wedding day. And you don't want to leave the responsibility of covering this day to someone who isn't professional and qualified. You want to hire the best wedding photographers for your South Indian wedding photography. Only then will you find satisfactory results and see your memories flourish to their fullest. That's why we're here to take responsibility for you and charm you with our flawless wedding services.
At Candlelight Studio, we pride ourselves on the diverse weddings we have covered over the years. Among many South Asian wedding photography we have done, South Indian weddings are the most prominent ones. We will transform all your magical moments into timeless pieces of art, and we will make sure to do it precisely. We have a photojournalistic shooting style that can capture the rawness of every moment.
South Indian Photographers in New Rochelle NY
South Indian Wedding Photographers for Wedding Trailers
Classic South Indian Wedding Photos in Floral Park NY
South Asian Weddings is our specialty. For over 20 years, we have been photographing and video capturing weddings and events of various nationalities and religious backgrounds. Our team of brilliant artists will capture your South Indian wedding photography in the most memorable, genuine, and authentic way possible to be cherished by generations to come. Our goal is to provide your best photography and cinematography with smiles and memories to mark your big day as a remarkable one. So you can cherish these memories for your lifetime.
The post-wedding photo and video shoot matters
Once the couple is married and completes all rituals, getting on with the photo and video shoot is necessary. We have limited time on our hands, but rest assured we don't rush, as it affects the quality of our work – we are very particular about it. We generally begin with some signature poses. Couple holding hands, bride resting her head on the groom's shoulder, both of them smiling lovingly into each other's eyes, and so on. Afterward, we ask them to be natural and not pose to get some great candid shots. We invest time and effort in getting terrific photos and videos of the guests and family members too.
CandleLight studio photographers will capture the beauty of your wedding and record all the ceremonies, rituals, and document your love story. The wedding photo album and the video highlight reels we will create will echo your individuality, revel in your joy, and show just how special your wedding really was. You will look back at it in the future and see how beautiful you looked and how beautiful you and your spouse looked together as if meant to be.
With over 1,000 shoots and sessions under our belt, rest assured we will capture your event in vivid detail for generations to cherish. There won't be a single precious moment that you won't find in the album or the film. You will see yourself as the prettiest bride or the most handsome groom in the world and marvel at how happy the day was. We know every moment counts, and we know which moments are important. So you don't have to worry about us missing something you want to cherish forever.
Our lead photographer Surinder Singh is a certified photographer by the American Wedding Group (AWG). He and his associate team of wedding photographers specialize in South Asian weddings. We have accredited members of PPA, the Professional Photographers of America. And also WPPI, the Wedding Event, and Portrait Photographers and Videographers International.
Suppose you don't find what you need in our available wedding packages. In that case, you can choose to make your own customized wedding photography packages and wedding videography packages. You can include real-time live streaming, drone photography, video highlight reels, and special services.
South Indian Videographers in New York City NYC
Best Wedding Reels by South Indian Wedding Photographers Near Me
South Indian Wedding Photographer in Flushing NY
Kerala/ Malayalam Wedding Photography and Videography
Kerala weddings are no less than majestic than their Telegu counterparts. Just tell us what the wedding day schedule is and leave the rest to our team of Indian photographers!
Families decide on an auspicious date, with the Nischayam being the event for the engagement announcement. There can be quite a bit of song and dancing here – we click several pictures and shoot videos of the would-be couple, their families, and guests while they have a blast at the party.
Madhuparkam is when the groom and his family reach the venue and give the bride a white sari to wear during the ceremony. The bride's brother washes the groom's feet while the bride is escorted to the mandap by her aunt. There are quite a few rituals to be performed in front of the holy fire. Once those are complete, the couple takes three rounds, and the groom ties a taali or yellow necklace around the bride's neck. This moment is spectacular – CandleLight Studio's team of photographers ensures that it reflects superbly in the pictures and videos.
The Kanyadaanam is also important, as the bride's father hands over his daughter's responsibility to the groom, followed by the garland exchange. After that, the sparsham ritual occurs where the groom sits on the floor facing the bride, so their foreheads touch, while the priest chants mantras. She puts rice in the fire, and then he puts her foot on a grinding stone. These are small but vital aspects of South Indian customs. After the rituals are complete, we take a few candids pictures of the couple as newlyweds. The guests enjoy the food and ambiance—the sadhya – an impressive feast of 25 dishes. The wedding feast is quite famous, and we videotape everything elaborately!
South Indian wedding ceremonies are vibrant, colorful, and full of splendor. We capture every ritual wonderfully. The events aim to culminate with the physical, spiritual, and emotional union of the couple. At CandleLight Studio, we read up on the traditions and customs of these weddings, so we know what to shoot, how to do so, and can deal with any issues that might crop up at the last minute! You can trust us to get the job done, just the way you want, without any complaints.
Since we promise such quality service, you might be feeling scared that the rates will be high. Too high for you to afford. But there is another thing that makes Candlelight Studio your best choice. And that is the fact that our service is completely affordable and our prices are fully budget-friendly. We have four wedding packages in place for you, and you can choose whichever fits your budget the best without having to worry about anything else. We also offer an elopement package.
South Indian Photographers in Ozone Park NY
South Indian Wedding Photography in New Jersey, New York, TX
Trends and poses at South Indian weddings that an expert videographer and photographer always capture these special moments beautifully.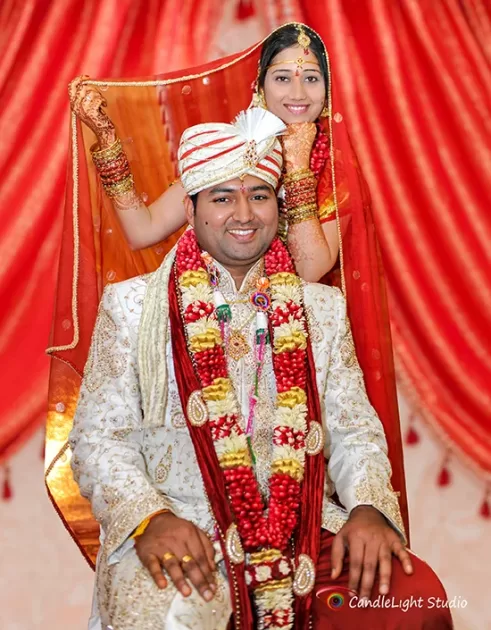 South Indian Wedding Photography Videography NYC, NJ, and TX
Best South Indian Wedding Photographers in Bronx NY
Telugu Photography and Videography – CandleLight Studio Capturing the once-in-a-lifetime moments.
Our team of photographers is experienced and understands the traditional cultures of Telugu weddings. We know exactly what needs to be captured during Telugu Ceremonies.
Pellikuturu, or the Haldi ceremony, is celebrated with many pomp and show, one or two days before the wedding day. In this ritual, naluga (a paste of flour and turmeric), with aromatic oils, is smeared on the bride's body, followed by a holy bath for a thorough cleanse. A similar ceremony called Pellikoduku takes place at the groom's house. It is a fantastic opportunity to cover the bride and groom in their glory, as friends and elders smear them with bright yellow paste. CandleLight Studio videographers will record every moment of the Pellikuturu and Pellikoduku ceremony with flattering angles and lighting for amazing videos and photo results.
Mangala Snanam takes place in the morning. Both bride and groom are given ceremonial baths, and an auspicious time is decided. It is a tricky affair here as the couple shouldn't look wet and miserable. But don't worry – Indian photographers shoot from such an angle that the essence of the ritual is captured brilliantly.
The Kashi Yatra is fun, where the groom pretends to depart for Kashi by leaving worldly pleasures behind. It is up to the bride's brother to stop and convince him to marry his sister. Once the groom says yes, he is welcomed by the bride's parents. It can be a hilarious video capturing the entire event. CandleLight Studio photographers capture these amusing moments, where the groom runs away, and the bride's brother tries everything to stop him.
Ganesh & Gauri Pooja on the mandap is the next thing. Then it is time for the bride and groom to do the Ganesh and Gauri Pooja, respectively in the mandap. Telugu weddings have lavish mandaps embellished with gorgeous decorations – Indian photographers shoot them from every possible angle. The bride's entry is grand and filmed beautifully. In some traditions, she is seated in a straw basket and carried to the mandap by her maternal uncle. The couple is separated by a curtain and not supposed to look at each other. We take pictures when the bride's parents wash the groom's feet and offer their daughter's hand to the groom. CandleLight Studio team takes videos and photos of Jellakara-Bellam when cumin and jaggery paste is placed on the couple's hands. The curtain is removed once Kanyadaan Kanyadanam and Panigrahanam rituals are completed.
The groom ties the sacred mangalsutra around the bride's neck. This holy yellow thread is smeared with haldi – we zoom in on it as a special meaning. After this, the pandit chants mantras while the couple showers each other's heads with pearls, thermocol balls, or rice colored by turmeric paste. Another enjoyable game is when a gold ring is dropped into a pot of milk and rose petals, and the bride and groom put their arms inside to see who picks it first. This is an exciting moment indeed. Indian photographers take close-up shots to capture the expressions on the couple's faces and their loved ones.
The garland exchange is also a colorful affair, while the couple is showered with flowers and turmeric-colored rice. Now comes the most important part – Saptapadi and Sthaalipaakam, where the couple takes seven rounds circling the holy fire and recites marriage vows to each other. We pan our video cameras well to take close and wide-angle shots. The video is generally shot in a continuous sequence. Finally, the priest takes the couple out of the mandap to spot the Arundhati Nakshatram (star) in the sky. Our team of Indian photographers takes pictures of the radiant smiles on the newlyweds' faces, which are priceless for sure!
Top South Indian Videographers in Long Island NY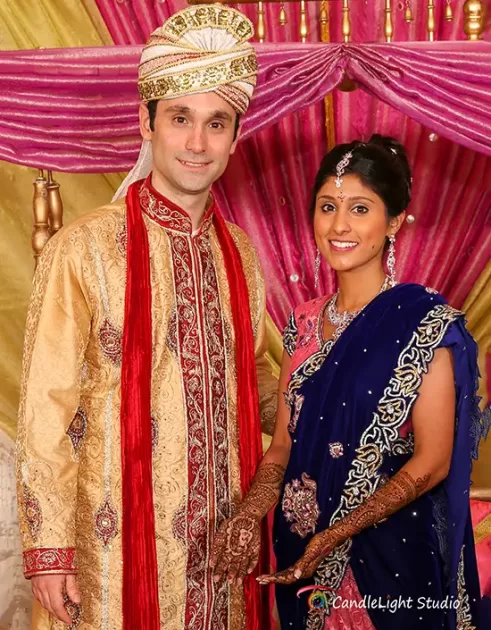 NJ Photographers for South Indian Wedding Photography in NY
Top South Indian Wedding Videographers Brooklyn NY
A wedding is an emotional journey. CandleLight photography studio believes in capturing these emotions and poses to transform them into your love story. Here are some trends and poses that are generally a part of our portfolio:
Stunning kanjeevaram saris
No South Indian wedding is complete without beautiful kanjeevarams worn by the bride. These saris are well-known for their timeless elegance – they are available in vibrant colors and attractive embroidery. They are even treasured and passed on as heirlooms. We get some awesome shots of the bride's attire and focus on highlighting the kanjeevaram. Nowadays, brides are trying unique and trendy ways of draping their bridal sari. Indian photographers start with a few poses and then click some candids pictures. We emphasize that she stays natural – she should smile and look comfortable, or it will show up in the photos and videos.
The jewelry deserves mention too!
Typically, South Indian brides aren't required to color-coordinate bridal saris with their jewelry, but this mindset is gradually changing. Nowadays, brides are picking jewelry that perfectly matches their bridal outfits. It is an honor for Indian photographers to take lovely pictures of the bride in her glory!
Displaying the gorgeous lehenga
Generally, South Indian brides prefer to wear lehengas during the haldi or sangeet ceremony. We tell her to give a playful twirl to videotape her outfit's beautiful design and embroidery. It is necessary that she smiles wide and gives it her all – it is a fantastic experience.
The "before and after" of makeup
It is natural for brides to take time while getting ready. After all, it is one of the most important days in her life –a critical milestone. We usually take a few photos of the bride getting ready shots and add them to a video where she is willing to dazzle at her wedding ceremony. Indian photographers capture behind-the-scenes stories during this time. The pre-wedding photo session "before and after" montage is a significant part of weddings.
Outstanding florals
South Indian brides have a typical way of doing their hair, making them look eye-catching. Fresh, vibrant flowers and splendid hair ornaments accentuate the whole bridal ensemble. A common trend during such weddings is bright floral frames held above the bride. Indian wedding photographers capture Bridal poses with floral frames flawlessly and beautiful way. The frame moves with the bridal party proceeding towards the stage or ritual ground. The cinematic-style videos come out superbly. It is an emotional moment for the bride as she prepares to take the next step.
Chic hair ornaments
As mentioned above, brides adorn their hairdos with classy hair ornaments. They mostly wear lovely matha Patti with intricate designs, but elaborately styled maang tikkas are fast catching. Both options are excellent!
Moreover, we cover all types of weddings regardless of the kinds of wedding venues. Most south Indian weddings either happen at home or the temple. But sometimes, they can be beach weddings, outdoor weddings, destination weddings, and many others. If you're looking for a destination wedding photographer, you will find one in Candlelight Studio. Because of our years of experience handling several types of weddings, we are now experts in wedding photography. Candlelight Studio will give you photographers and videographers you can trust and can afford services. There is no sacrifice to quality in this studio; there is only the highest level of sincerity in capturing wedding videos and photos. Surinder Singh records your day in style with a budget-friendly package from couple photos to bridal party portrait sessions and ceremonies.
Best South Indian Photographers Manhattan NYC
New Jersey Photographer for South Indian Wedding Photography
South Indian Wedding Photography in Connecticut CT
Tamil Wedding Photography and Videography by CandleLight Studio
Tamil weddings involve many rituals, but you can relax as photography and videography are our responsibility. We will cover every precious moment!
The Nichayathartham is the engagement where the bride and groom exchange their rings. And their families decide the date and time of the wedding. On the day of the wedding, the groom, his family, and friends arrive at the mandap. Gifts are exchanged, and they are welcomed warmly by the bride's family. Our photographers take photos and videos of the grand procession as they enter the venue.
Now the groom seeks permission from his father to move ahead from Brahmacharya or bachelorhood. This tradition takes place among the chanting of mantras just before the Kashi Yatra. As mentioned above, this is an entertaining ritual where the groom pretends to leave the venue and move to Kashi. The difference from Telugu weddings is that in this case, it is the father of the bride who has to convince his "runaway son-in-law" to return. We get really creative here with the camera – it is immensely comical to shoot videos and photos of the dramatic escape of the groom and how the would-be father-in-law succeeds in persuading him!
Maternal uncles of both sides oversee the garland exchange or Maalai Maatral. Afterward, the bride and groom sit on a swing – this ritual is known as oonjal. We get fabulous photos here and film the couple sitting royally on a gorgeously decorated swing. Five or even seven aunts (whose husbands are alive) wave balls of white, red, and yellow rice, and throw them in four directions. This is an interesting way to bless the couple.
The Kannikadhanam is when the bride sits on her father's lap and is given gifts and blessed by elders. The priest places a yoke denoting peace and balance on her head upon a sacred grass and the Gold Mangalyam.
The tying of the mangalsutra is of enormous significance. It takes place during an auspicious hour, CandleLight Studio photographers are already in a position to get some great pictures and film at the right moment. A turmeric thread is also tied around the bride's neck with three knots. During Saptapadi, the couple takes seven steps hand-in-hand to signify their holy union. Here too, the bride has to step on a grinding stone to pave the way into her new family.
The star-gazing ceremony of Arundhati Nakshatram is also standard. Indian photographers get remarkable opportunities for photos and videos during the Nalangu, where the newlyweds interact and relax right after the wedding. Lots of games are played, while there is singing and dancing too.
We believe in capturing the memories of South Indian weddings as they happen, not staged. Only professional photographers will know how to take candid photo shots preserving all the fun and memorable moments that take place. CandleLight arranges the perfect setting for your special day. Perhaps you want a traditional South Indian wedding with all the ethnic grandeur, posh American style, spiritually infused religious weddings. Photographer Surinder Sings's unique and candid style combines dynamic design and cinematic style storytelling for an end product unmatched by any other. His unique and candid style of photography will give awe-inspiring moments to your special wedding day that you will want to relive forever.
Our wedding photography packages are all-inclusive, which means that there are no hidden costs and surprises with a competitive edge to meet the average photographer cost.
Top South Indian Videographers in New Jersey NJ

South Indian weddings by Indian Wedding Photographers Near Me
Marriage Photography by Indian Desi Wedding Photographers
Surinder Singh – Professional Indian Wedding Photographer
Wedding photography keeps your memories alive for generations to cherish, but it doesn't have to cost a fortune.
CandleLight Studio has several affordable wedding videography and photography packages available, and we offer something for every budget.
Surinder Singh specializes in shooting traditional South Asian and Modern Western Weddings. South Asian Brides and soon-to-be couples love their outstanding photographs provided by photographer Surinder Singh.
Marriages are made in heaven, but weddings are celebrated on earth. CandleLight studio photographers capture those precious moments, memories of family and friends coming together to bless the newlywed couple.
Weddings are full of anticipation, excitement, and, of course, anxious moments. There are so many things to plan and think about, so let CandleLight Studio help you by taking one thing off your plate – pictures, and videos. With over 1,100 shoots and sessions under our belt, rest assured we will capture your South Indian wedding photography in vivid detail for generations to cherish.
CandleLight Studio has been recording memories for over 20 years. Whether it is a traditional South Indian wedding or a modern Western wedding, our photographers and video producers are unmatched and highly detail-oriented. CandleLight Studio has captured memories that last a lifetime, and we have the portfolio to prove it.
Keeping your wedding within its budget is important, and photography is no different. Our affordable wedding packages are value-priced, with options to choose the package that offers the most value for your price range.
CandleLight Studio photographers will immortalize your special moment so you can relive your wedding day in detail forever. We promise you're going to love Candlelight Studio!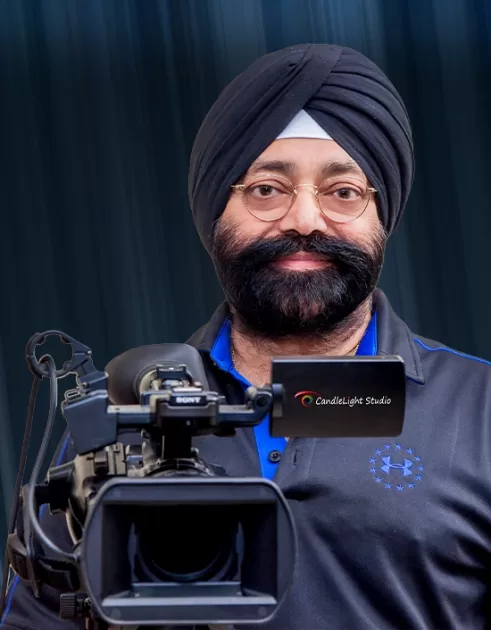 Surinder Singh is a professional wedding photographer capturing tying the knot moments for couples of various nationalities and religious backgrounds for over 20 years.
Certified by the American Wedding Group, Photographer Surinder Singh is culturally sensitive and has an eye for detail and a passion for capturing rich wedding traditions.

Best Photographers for South Indian Wedding Photography Near Me
Frequently Asked Questions about Nepali Wedding Photography?
Top South Indian wedding photography Near Me for Shaadi Photos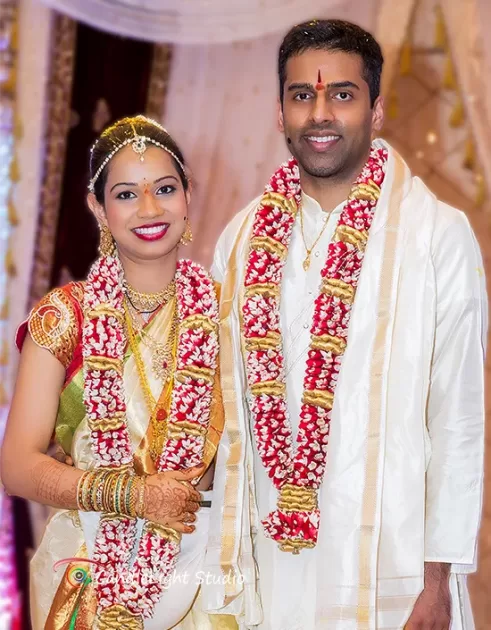 Every wedding is unique, so we take time out to understand the particular requirements of every wedding. From bridal shower to makeup session, wedding customs, and traditions and vows session to the wedding reception venue, we capture every moment spontaneously with a blend of classic and contemporary style.
Best South Indian Wedding Videos Photos by Indian Photographers
Our wedding photographers and videographer are always unobtrusive. We make it a habit of always being polite and friendly throughout to ensure that you have a fantastic moment with us while enjoying your big day.

South Indian photography packages are the best for these reasons
South Indian Wedding Photography Packages and Prices are Best
Indian Wedding Photos
Indian Wedding Videos
Indian Wedding Photography Near Me and Wedding Videography Near Me
Indian Wedding Photographers Near Me and Wedding Videographers Near Me
Candlelight Studio was founded in 2000 in New York and has captured beautiful moments since its inception. We pride ourselves on connecting the dots and creating a story worth telling and seeing through photos and videos.
We provide Photography, Cinematography, and 4K Videography services for Weddings in and around New York, New Jersey, Houston, Texas, and surrounding areas.
We know that there are brides from different cultures and traditions. We have covered a wide repertoire of weddings from American, Jewish, and Latino weddings to Indian, Pakistani, Guyanese, Bangladeshi, and a variety of others.
Candlelight Studio ensures that we deliver only the best service and ensure that you are included and engaged with your audience and your story.

South Indian Bride Groom Portraits and Wedding Photos
Engagement and South Indian Wedding Photography Near Me
CandleLight Studio: South Indian Wedding Photography Near Me provide lifetime memories of your big day
South Indian Weddings is our specialty. Candlelight Studio, with studios in New York (NY), New Jersey (NJ), Houston, and Dallas, Texas (TX), is your one-stop studio for professional wedding photographers specializing in Telugu, Tamil, and Kerala Malayalam marriage ceremonies Photography for over 20 years.