The Best Ways to Find Local Punjabi Photographer Near Me who will Match My Style and Personality and has Creative Insights into Sikh Punjabi Wedding Photography.
Magical Moments of My Big Day by Sikh Punjabi Photographer Near Me | CandleLight Studio

Timeless Wedding Day Memories by Sikh Punjabi Photographers Near Me | CandleLight Studio

Distinctive Wedding Pictures by Sikh Punjabi Wedding Photographer Near Me | CandleLight Studio

The Best Team of Talented Sikh Punjabi Wedding Photographers Near Me | CandleLight Studio

Top Leading Photographer for Sikh Punjabi Wedding Photography Near Me | CandleLight Studio

Capturing Precious Moments at Sikh Punjabi Wedding Videography Near Me | CandleLight Studio

2021 Best Punjabi Wedding Photography Packages Prices Near Me
2021 Best Sikh Wedding Photography Packages Prices Near Me
Relive Your Special Moments Forever:
From bridal portraits and engagement photos to posed wedding photos of the bride and groom, wedding party, and family members, CandleLight Studio will Capture the Moment and Memories to Last a Lifetime!
Our wedding photography packages and prices are reasonable, and our reasoning is priceless:
We offer the best value packages at affordable pricing for every budget
Wedding Photography to Immortalize Your Unique Moments
Wedding Videography that will Connect Each Fabric of Your Story the Right Way
5~10 Minutes Video Highlights Reel with Special Effects and Matching Songs
Elegant Wedding Photo Album to Preserve Your Favorite Memories for Generations to Cherish
Drone Coverage of Your Unique Love Story in Motion
Live Streaming of Wedding Events, so your family and friends from around the world are virtually attending your Wedding
All High-Resolution Photos without watermarks, Delivered on USB Drive and Online
FREE UPLOAD of selected photos and Video Highlights on the Internet
Punjabi Wedding Videography by CandleLight Studio – Innovative Punjabi Videographer specializing in Local and Destination wedding cinematography. Your Punjabi wedding is going to be one of the most memorable days of your life. It's that unforgettable day where you commit to one another in front of friends and family. You'll want to relive those moments forever – but your Punjabi wedding day can feel like a blur. With so much going on and all the family emotions involved, it's easy to forget some of the most treasured parts of your wedding ceremony and reception. That's why you may want to hire a Punjabi videographer to capture it all.
Punjabi Wedding Photography by CandleLight Studio – You will hire many talented vendors for your Punjabi wedding, and each one provides an undeniably valuable service. However, one of your most essential vendors is your wedding photographer. This person will capture your big day in all its glory and give you memories that you'll treasure forever. Make sure you take the time to do your wedding photography homework and find a great Punjabi photographer who matches your style and personality.
Punjabi Videographers Near Me are a passionate visual storyteller who loves preserving precious moments in a creative and artistic way.
Punjabi Wedding Highlights Video Reel by CandleLight Photography Studio.
Sikh Wedding Film | Punjabi Wedding Ceremony videos by CandleLight Photo Video Studio.
Best Punjabi Wedding Highlights Trailer by CandleLight Videography Studio.
Punjabis are happy people by nature, and their weddings are filled with unconditional happiness too!
A wedding is not just a ceremony; it's a promise, a connection of two souls who give themselves to each other for a lifetime. It's one of the most memorable days in any person's life, filled with precious moments. And surely Sikh Punjabi wedding photography will not let you forget the irreplaceable memories made on this day. And what better way is there to commemorate your wedding day than to go through a beautiful photo album and a film video reel?
Our team of Indian photographers at CandleLight Studio provides wedding photography videography services in New York, New Jersey, Houston, Texas, and their surrounding areas.
Why do Brides and Grooms love our Punjabi Wedding Photography services?
Simply because we do more than taking photos. We Create Memories For A Lifetime.
Why should I choose Sikh Punjabi wedding photographers near me for my marriage ceremony photography? Our lead photographer Surinder Singh is Sikh himself and has extensive experience photographing Sikh Punjabi weddings. We offer a creative concept, stunning image quality, and excellent Punjabi wedding photography at affordable prices. We have captured some of the rarest, most priceless moments in Punjabi weddings.
That's what we do here at Candlelight Studio, with our amazing team of Indian Photographers and Indian Videographers. Our amazing team of Indian Photographers will stun you with their artistic wedding photography skills, and you will be glad you choose us.
Your marriage ceremony will be clicked and recorded by multiple photographers of Candlelight Studio. We have 20 years of experience in our hands and a remarkable eye for detail. We will take photos of your best and most beautiful moments clearly and vividly. Our unique and versatile photography style will charm you. We know the latest wedding photography trends so that you can cherish your memories for a lifetime.
Tie the knot on your Big Day without any worries because we have got you covered. With our affordable wedding photography, you will never have to worry about crossing your budget!
We are experts at Punjabi wedding photography. Our main photographer Surinder Singh knows them by heart. The associate team of Candlelight Studio has also covered several Punjabi and Sikh weddings in the past. We offer engagement photo sessions, drone photography, bridal party portrait sessions, Pre-Wedding photography, wedding photo albums, and even candid shots. Real-time live streaming of Punjabi weddings is our specialty.
Punjabi Bride and Groom Circumambulating The Guru Granth Sahib
Videos and Sikh Punjabi Wedding Photography by CandleLight
Punjabi Wedding Videography New York
We Capture Your Best Moments Before And After The Wedding
Our Punjabi wedding photography services are not just limited to your wedding day. We can arrange for the most romantic pre-wedding photoshoots, creating cinematic moments between the two of you. Also, check out our post-wedding photography that captures the newly flying sparks after you have tied the knot. With our post-wedding photos, you can rediscover the romance in your relationship. While you stay hand-in-hand with your partner on the beach, in a cafe, or in the garden, we create magic with our lenses. Your love is the spice needed to make post-wedding photography beautiful. Punjabi Wedding Photographers are better able to produce Sikh Anand Karaj Ceremony Videos and bridal party photos.
Punjabi Wedding Videographers NYC
The Sikh Marriage Ceremony Video Highlights by CandleLight
Punjabi Wedding Videography New Jersey
Wedding rituals and ceremonies are one of the common parts of every culture. They create a bond between two persons who love each other and like to live together. At CandleLight Studio, we have the best set of videography equipment to stream your Punjabi wedding ceremony. Your close relatives who could not attend your ceremony for travel restrictions can watch your virtual wedding video remotely. We use the most advanced virtual platforms that enable your guests to watch the wedding event from their digital devices. Our professional standard gears will allow us to deliver the best digital content to our clients. Enjoy your virtual weddings and capture every moment of your special day. Punjabi Wedding Videography encompasses various ceremonies with traditional music and dance.
Punjabi Wedding Videographers NJ
Punjabi Wedding Reel of Anand Karaj The Ceremonies of Bliss
Punjabi Wedding Videography Houston Texas
Wedding cinematography is our specialty. Whatever Punjabi wedding photography style and format you want, we can give you. With our latest and advanced photography equipment, we can capture smiles and tears. From the bride, bridegroom, and their families to the traditional ceremony, we will be capturing everything forever with our professional hands.
At CandleLight Studio, Punjabi wedding videographers have earned a reputation with modern cinematic production. We incorporate the best effects and soundtracks into your Punjabi wedding videos. Our wedding films are memorable, surprising, and charming to all viewers. Moreover, as our professionals have learned the best coloration and postproduction editing techniques, we provide you with the best output.
Punjabi Wedding Videographers TX
Best Punjabi Wedding Photographer for Sikh Marriage Ceremony
Punjabi Wedding Photography and Four Lavaan Ceremony Photos
Punjabi Wedding Photography New York
Lavan Ceremony Photos by CandleLight Studio
Punjabi weddings come in different shapes and colors. The variety of their wedding ceremonies are endless. Some families choose to hold the ceremony intimately, while others do it most elegantly.
Punjabis have several kinds of ceremonies and rituals, like Rokha, Thaka, Chunni, Sagai (Engagement), Mehendi, Kangana Bandhna, Chura Chadana, Kalire, Haldi, and many more. We have extensive knowledge of all these ceremonies and rituals and can capture them beautifully.
Whether you're visiting your groom's families for Rokha or getting ready for Thaka, our cameras will click all the important moments. The red veil covering the bride on Chunni Chandana, the sparkle of the engagement rings on the day of the Sagai, and the gorgeous patterns of henna on the Mehendi ceremony will leave no details out.
We will capture the twirl of your Lehenga on your Sangeet night. Our videographers will record the yellow skin of the bride and the groom during the Haldi ceremony, the Sehrabandi of the groom, and his journey on the horse. It is not needed to mention the most prominent and warm Punjabi wedding ritual of Agwaani and Milni. There are so many joyous occasions and so many happy moments. We will capture them all.
From traditional Indian weddings to western-style church ceremonies, we photograph every event. We take the challenge of incorporating cultural elements into your bridal portrait sessions.
Punjabi Wedding Photographers NYC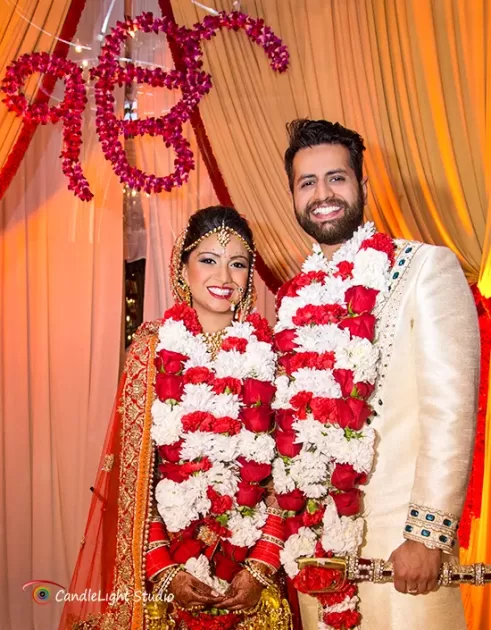 Anand Karaj Ceremony Photography by Sikh Wedding Photographer
Punjabi Wedding Photography New Jersey
At CandleLight Studio, we record the moments in a cinematic style to show you just how special your wedding was. Our wedding videography services are satisfactory and affordable. You will be able to enjoy your wedding day like you're enjoying a movie. We can also make video highlight reels to show you the best moments. You can clutch these memories to your heart through your beautiful wedding videos.
It doesn't matter what kind of wedding you're having; we can capture it all. Outdoor weddings, beach weddings, or destination weddings—we have experience with all of them. Some Punjabis have private weddings, so we can also do an Intimate wedding photoshoot for them. New York Weddings are our main forte, but we cover other areas too. No matter how or where your wedding is taking place, we will be there for you.
Your wedding day is the most important day of your life. There is no doubt you want everything to go smoothly and nothing to go wrong. You can definitely trust us with that. We will seamlessly melt into the background and do our work most unobtrusively. We will not miss a single important moment, from the smallest tears to the biggest smiles. Every second is precious, and we will make it count.
Wedding is the beginning of your 'Happy Ever After' and the world needs to see it, just like you do. Our packages are within industry standard yet attractive and flexible to meet your bespoke needs.
Punjabi Wedding Photographers NJ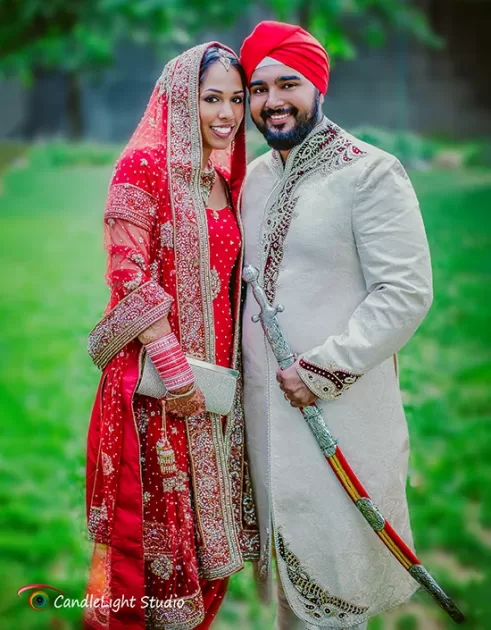 Sikh Marriage Ceremony Videos and Punjabi Wedding Photography
Punjabi Wedding Photography Houston Texas
Punjabi wedding photography team was amazing at my wedding
At CandleLight Studio, we comply with the average wedding photographer cost. Weddings tend to be very expensive even without the additional cost of hiring photographers. We know that, and we don't want to make you feel worried about the budget. That's why our service of Sikh Wedding Photography is entirely affordable. You can take your wedding vows without feeling like you've spent too much to get here!
You can check out our available wedding packages. Our wedding photography packages and wedding videography packages offer a bunch of services you will love to take. You can also have your customized wedding packages at reasonable rates. If you are getting married by eloping, then we also have elopement packages in place for you. You can choose whichever package fits your needs the best.
We are skilled in a variety of services and can aid every demand you have. You will get everything you ever wanted. Your happiness is our highest priority, after all, and we will make no compromises. And these are not just all talk either. You can always check out our portfolio and our customer reviews to find proof of our flawless service. We take pride in them!
Cultural traditions and customs play an important role on your Punjabi wedding day. We know how wedding rituals shape the cultures and help us in illustrating your love story.
Punjabi Wedding Photographers TX

Traditional Punjabi Sikh Wedding Photography and Videography
Photographer Surinder Singh for Punjabi Wedding Photography
Punjabi Wedding photography keeps your memories alive for generations to come — and it's affordable!
Punjabi Wedding photography keeps your memories alive for generations to cherish, but it doesn't have to cost a fortune.
CandleLight Studio has several affordable wedding videography and photography packages available, and we offer something for every budget.
Surinder Singh specializes in shooting traditional Sikh Punjabi Weddings and Modern Western Weddings. Punjabi Brides and soon-to-be couples love their outstanding photographs provided by photographer Surinder Singh.
Marriages are made in heaven, but weddings are celebrated on earth. CandleLight studio Punjabi photographers capture those precious moments, memories of family and friends coming together to bless the newlywed couple.
Weddings are full of anticipation, excitement, and, of course, anxious moments. There are so many things to plan and think about, so let CandleLight Studio help you by taking one thing off your plate – pictures, and videos. With over 1,100 shoots and sessions under our belt, rest assured we will capture your Punjabi wedding photography in vivid detail for generations to cherish.
CandleLight Studio has been recording memories for over 20 years. Whether it is a traditional Punjabi wedding or a Sikh wedding, our photographers and video producers are unmatched and highly detail-oriented. CandleLight Studio has captured memories that last a lifetime, and we have the portfolio to prove it.
Keeping your wedding within its budget is important, and marriage photography is no different. Our affordable wedding packages are value-priced, with options to choose the package that offers the most value for your price range.
CandleLight Studio photographers will immortalize your special moment so you can relive your Punjabi wedding day in detail forever. We promise you're going to love Candlelight Studio!
Surinder Singh is a professional wedding photographer capturing tying the knot moments for couples of various nationalities and religious backgrounds for over 20 years.
Certified by the American Wedding Group, Photographer Surinder Singh is culturally sensitive and has an eye for detail and a passion for capturing rich wedding traditions.

Why do Brides and Grooms and Couples Love Our Services?
What Differentiates Us from Other Wedding Photographers?
Punjabi Wedding Photography at Anand Karaj Ceremony New York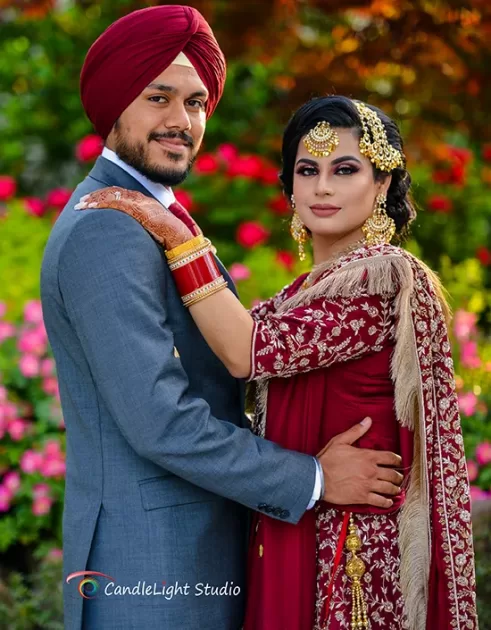 We also help you with formal family groupings for photography sessions. You need to inform us about the number of family groupings. We allow 4 to 5 minutes for every group. We give you a wide range of options to choose the location for family photography on your wedding day. Moreover, the family photoshoot sessions let you come closer to the dear ones.
We had a memorable time with Punjabi Photographer Near Me
CandleLight Studio specializes in wedding photography and videography services for various cultures and religions. We work with you to ensure that we will be able to capture the essence of your cultures, customs, and traditions on your special day. Our goal is to create images that would make you reminisce about those wonderful moments in the years to come.

Professional Photographers for Religious Punjabi Weddings
You Will Love Our Punjabi Wedding Photography and Videography
Indian Wedding Photos
Indian Wedding Videos
Indian Wedding Photography Near Me and Wedding Videography Near Me
Indian Wedding Photographers Near Me and Wedding Videographers Near Me
Candlelight Studio was founded in 2000 in New York and has captured beautiful moments since its inception. We pride ourselves on connecting the dots and creating a story worth telling and seeing through photos and videos.
We provide Photography, Cinematography, and 4K Videography services for Weddings in and around New York, New Jersey, Houston, Texas, and surrounding areas.
We know that there are brides from different cultures and traditions. We have covered a wide repertoire of weddings from American, Jewish, and Latino weddings to Indian, Pakistani, Guyanese, Bangladeshi, and a variety of others.
Candlelight Studio ensures that we deliver only the best service and ensure that you are included and engaged with your audience and your story.

Punjabi Wedding Traditional Photography and Videography NYC
Punjabi Sikh Wedding Photography Near Me | CandleLight Studio
Punjabi Wedding Photography and Videography – WE ARE READY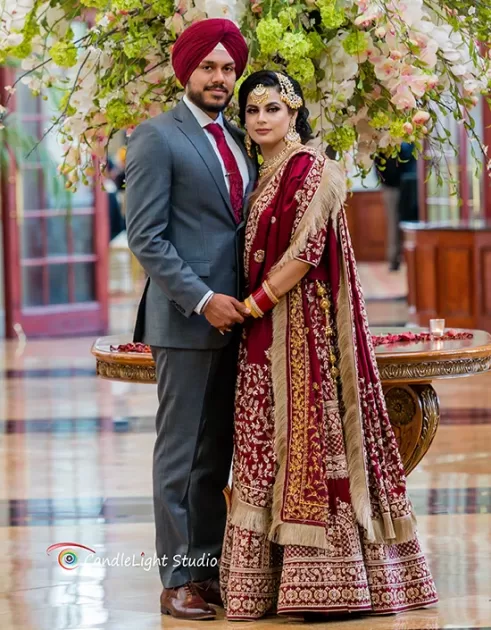 We provide you with highly elegant photoshoots that reveal emotion and love in your wedding ceremony. Would you please speak to our team and learn how we capture the scene of every colorful wedding event? As every wedding is different, we take a unique approach for every client.